ENGLISH / DEUTSCH / FRANÇAIS / ITALIANO
Angebote / offered : Afterloading emergency container
Gesuche / sought :
---
ANGEBOTE / OFFERED
Afterloading emergency container (9.2.2010):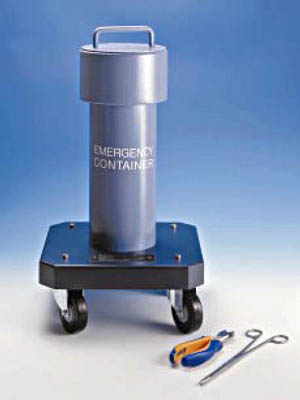 We have an emergency container (lead) for an HDR afterloading suite (or something similar) to give away - must be picked up in St.Gallen, however.

Dimensions: inner volume 7 cm dia. and 30 cm depth, wall thickness 3 cm. If you are interested, please, contact Wolf Seelentag at

.
---
GESUCHE / SOUGHT
---

ENGLISH : Exchange & Mart
Space is available here to offer equipment or parts which are no longer needed, or to search for useful things in exchange. If you wish to place an advertisement here, please contact Wolf Seelentag,

.
---

DEUTSCH : Tauschbörse
Hier soll die Möglichkeit geboten werden, aktuell Angebote von nicht mehr benötigten Geräten oder Zubehör, bzw. Tauschangebote zu publizieren. Wenn Sie eine Anzeige publizieren wollen, wenden Sie sich, bitte, an Wolf Seelentag,

.
---
FRANÇAIS : .....
---

ITALIANO : .....